Omnis

Web Hosting Review

California based Omnis has been a leader in the web hosting industry dating back to 1999. Now, after almost 20 years of quality service, they have grown from a simple web hosting company to a full blown enterprise web services company serving over 400,000 domain name and web hosting accounts.

This kind of growth and longevity doesn't come from a sub par product or half-assed customer service.

Which is why their equipment is owned and operated locally, with no outsourced support, at One Wilshire in Los Angeles, the undisputed main hub of the internet for the entire Pacific Rim.
Features
With the flexibility of cloud based web hosting and the simple to use control panel, Omnis makes administration simple for both inexperienced personal users and professional industry workers alike.
In addition to the features hosting customers have grown to expect, Omnis also provides new users a free domain name, a 30 day money back guarantee, and a 99.9% uptime guarantee to assure that your audience will always be able to reach you.
All of this, coupled with the fact that they offer truly unmetered bandwidth, means no pesky limitations on how much you can grow.
Reliability
With the blazing fast load times of a Tier1 fiber optic network connection comes unmatched reliability.
The Cisco networking and diverse DNS locations means Omnis can guarantee your website is going to up and running 99.9% of the time. This means you can worry about the important things like growing and running your website and not about the visitors, potential sales, and dollars you might be missing out on.
Control Panel
Omnis custom control panel makes the often complicated chores of setting up a content management system, FTP users, and email accounts, a snap.
With their ability to install scripts easily and securely you can have your own WordPress blog, community forum, shopping cart, image gallery, and more installed in just seconds with one click of the mouse.
Looking for a specific content management system? Omnis now officially supports over 40!
Customer Support
When it comes to customer support Omnis spares no expense. They take great pride in their 100% in-house knowledgeable support staff and never resort to outsourcing like some of the competition.
24 hours a day, 7 days a week, you will rest easy knowing that best in class support is just a call, email, or click away.
Think it's too good to be true? Try it for yourself. I just clicked on their live web hosting support chat and had someone answering my question in under 20 seconds.
Read more about one of these top rated hosting companies

Sites Hosted: 400,000+
Founded: July, 1999
Located: Torrance, California
Plans: Shared, VPS, and Dedicated
Guarantee:
30-Day
Money Back
Visit Site

»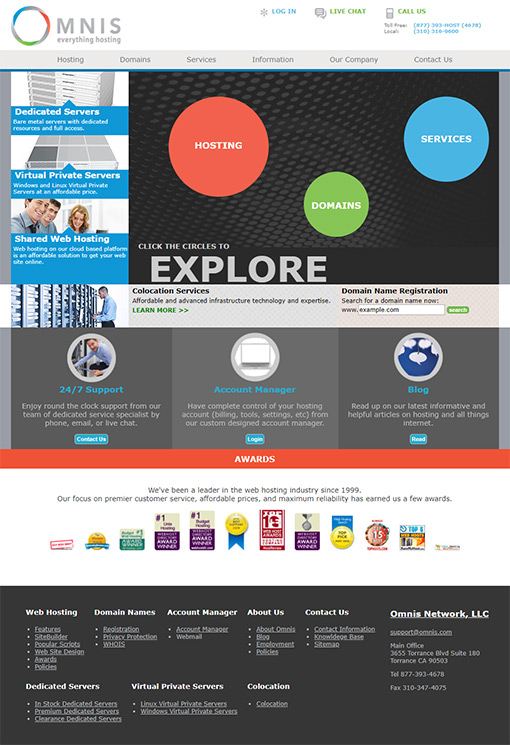 Save 20% off of your entire order with this exclusive offer!