DreamHost

Web Hosting Review

Dreamhost is definitely a refreshing web hosting company. They are owned by their employees - a tight knit family that is not looking to sell out to investors or gigantic media conglomerates who care more about the bottom line than providing solid web hosting.

They are just a quality bunch of real people looking to provide exceptional hosting to their customers.

Having staff invested in the success of their own company means that you, the consumer, wins.
Features
Dreamhost offers some truly unbelievable standard features including unlimited storage and bandwidth on a blazingly fast SSD platform.
In addition to the standard features Dreamhost also offers a free domain with privacy protection, unlimited email accounts, and their famous 97 day money back guarantee.
They also offer free SSL security with big bonus points for going with the newly popular, Let's Encrypt certificate platform.
Reliability
Dreamhost has been in the hosting game for over 20 years now and when it comes to reliability, they know what they are doing.
They are so confident that you will love their security and uptime that they offer all of their customers and unheard of 97 day money back guarantee.
If you decide, within the first 97 days of your time with them that DreamHost isn't for you, they will gladly close your account and refund any payments you've made to them within those first 3+ months.
That's putting your money where you mouth is.
On top of that, they boast a 100% uptime guarantee! If your website ever goes down, they will credit your account a full day's service for each and every hour you spend sweating.
Control Panel
Developed entirely in-house, the Dreamhost control panel has a user-friendly interface that can't be found anywhere else.
Having access to the nuts and bolts of the entire hosting operation enables them to add features to the panel based on direct feedback from over 400,000 customers.
You can access your billing information, create or modify your MySQL databases, configure your account, create email aliases, and much more.
Everything you might need with nothing you don't.
Customer Support
Dreamhost has more quality support options than any other hosting company out there today.
They really make a point to reach out to their customers with their extensive knowledge base, blog, forums, phone, and personal web panel email support.
The best part, as I said before, is that these are real people. They work on site and have a vested interest in getting you through any problem you might have like a living breathing human being should - not like a technical jargon speaking robot.
Don't take my word for it, head over to their support page and drop them a line today. I'm willing to bet you'll be pleasantly surprised.
Read more about one of these top rated hosting companies

Sites Hosted: 1,500,000+
Founded: April, 1997
Located: Brea, California
Plans: Shared, Virtual, and Dedicated
Guarantee:
97-Day
Money Back
Visit Site

»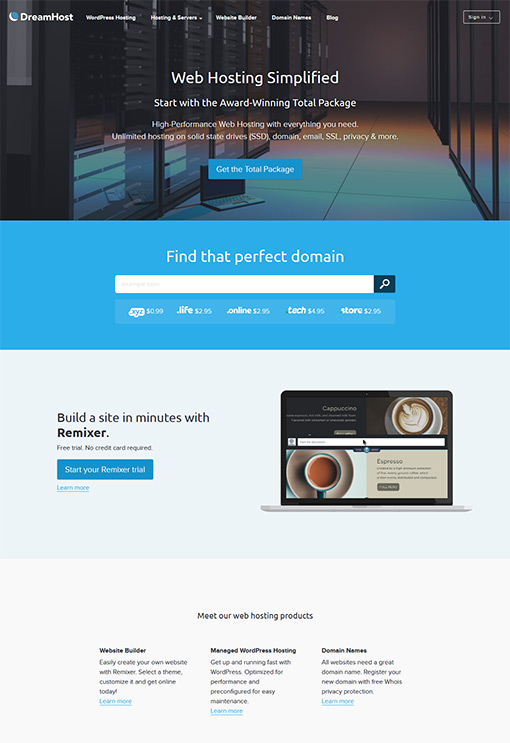 New customers Save $30 on their first 12 month plan!